Memorial Plaque Dedication for Dr. Yosihiko "Taote Tapone" Sinoto
Memorial Plaque Dedication for

Dr. Yosihiko Sinoto, distinguished archaeologist at the Bishop Museum, Honolulu was honored
on September 3
with the dedication of a bronze memorial plaque at the Fare Pōte`e on Huahine
Dr. Sinoto passed away in 2017 after a venerable 63-year archaeological career with the Museum.
Bishop Museum joined with the Sinoto Family, Huahine Associations `Ōpū Nui and Matahiapo (Elder's) Group, and Marcelin Lisan, Mayor of Huahine to organize this tribute.





Many respected figures honored Dr. Sinoto's legacy with their presence, including
Mayor of Fa`aa: Mr. Oscar Temaru (former President of French Polynesia), Mr. Moetai Brotherson (National Assembly of France), Mrs. Dorothy Lubin-Lévy (President, `Ōpū Nui Association), Mayor Ronald Cheou (Maeva), and Senator J. Kalani English (Hawai`i).
Leading up to the dedication, Fare Pōte`e staff Ms. Nina Kaukua and Anna Tauma worked with Bishop Museum affiliates Ms.Toni Han Palermo and Ms.Elaine "Muffet" Jourdane to prepare exhibits in Tahitian, French and English.
Melanie Ide (Bishop Museum President and CEO)
and the Sinoto Family sent messages of appreciation which were read by Museum affiliate Eric Komori. Shoko Hisayama, Museum Research Assistant and Dr. Sinoto's former assistant, and long-time museum volunteer Fumiyo Morie performed a hula in his honor.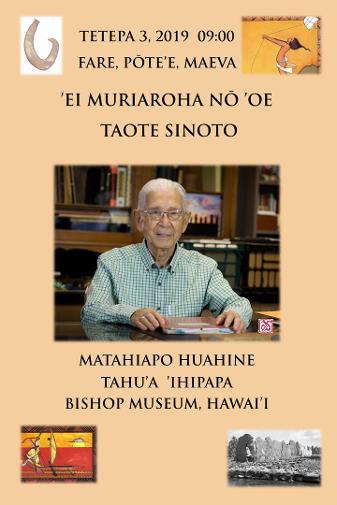 T H E C H I L D R E N'S O R E R O

The

ORERO

symbolizes the guardian

of Polynesian culture

.

Person

of real importance

in ancient

Polynesian society

, he was regarded

as the cultural

messenger

of the people.

This is also

the

oratory,

the art of handling

the words

to

convince

assistance and

interest

,

capturing the attention

of an audience

Once reserved for

a few insiders

or transmitted by

heredity

,

the

Orero

is alive

today

through cultural

events

offered

to the participation of

all the Polynesian people

.




March 18th

2015, the children

were present at

Huahine

Fare

P

ō

te'e of Maeva

to achieve this

very

important

event.
"All the mana of Huahine was present today with our children at the

Fare Pōte'e

thank you Vave'a Opu Nui and everyone who so generously made this day".
(Dorothy Levy)

W E A V I N G W O R K S H O P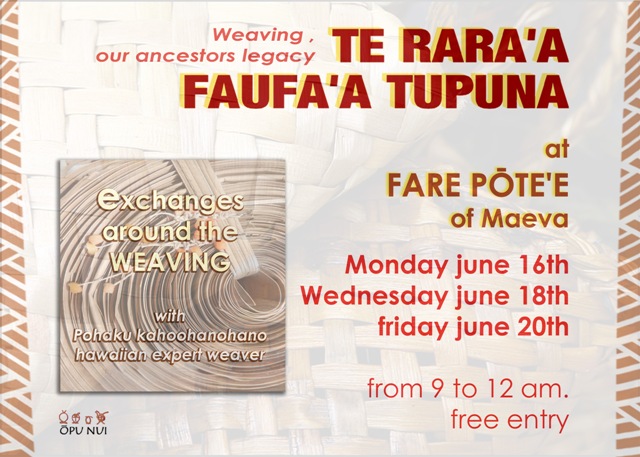 Following
Papeete

exhibition and symposium
dated
9 to 14
June on the
theme
of "Weaving
, the legacy of our ancestors", the
Ōpu Nui association

organized

an

exchange

workshop

from june 16th to 20th at

Maeva
Fare Pōte'e

on the theme of the weaving

with the participation of

Pohaku

Kahoohanohano

,
Hawaiian

expert
weaver
.
Workshops and animations


Maeva cultural legacy is a permanent source of learning and expression for the villagers.
Guided tours on Maeva archaeological sites



"Garden Legend Marae Tour"

Guided by Maeva villagers an introductory walk through the ancient history of the Mā'ohi people, the ancestors.
The marae of the lake side, a walk along the vanilla plantations and the discovery of
the
magnificent
and
legendary
marae on the hill of Mata'irea.
Flower leis and crowns available (res. 24hrs advance)


Reservations :
207 449 - 214 845
Rates:
2500 xpf per person -
m
inimum 2 persons