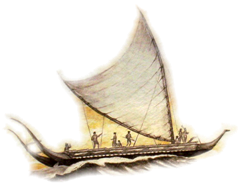 Migration in the vast Pacific Ocean demanded highly-competent navigators together with society organization and sophisticated technology. Large travel canoes should be built. Travel goods had to be stored for the journey and for the installation of the newly discovered lands. Products such as coconut, breadfruit, taro and sugar cane have been introduced and then spread throughout Polynesia by these prehistoric browsers, who also brought their dogs, pigs and their chickens.
Read more...

The old material culture


Manually agile, quick to exploit what nature put at their disposal, the ancient inhabitants of Huahine made ​​tools of multiple uses. The raw materials used were volcanic rocks, corals, shells, bones...
What are the marae ?

The marae were spaces dedicated to social and religious ancient Polynesians ceremonial activities. Some were small, including many altars called marae tupuna, family altars. Not all the marae belonged to the upper class all of ari'i, but they generally had the largest and highest marae. If the design and construction of a marae ranged from one island to another, the basic architecture generally comprised a rectangular courtyard or marae, provided a platform ('ahu) to one of its ends, and a set of standing stones.
Place of worship of ancestors and some deities, the marae was a meeting place between the people and the powers that it was important to obtain favors from. The religious ceremonies gave rise to prayers ('upu pure), invocations (ti'aorora'a) and offerings (pūpūra'a ō). Read more...